Mentoring Steps Toward TET Tapping Certification at The EGO Tamer® Academy
Upon completing The EGO Tamer® (TET) Tapping Level One & Level Two training at The EGO Tamer® Academy and passing the TET Tapping Level Two Assessment, the next logical step is getting certified as an TET Tapping Ppractitioner.
At The EGO Tamer® Academy, we offer a mentoring program to guide you through the certification process and arm you with the tools you'll need to be successful in using EFT and TET Tapping in your business.
For context, let's take a look at some historical data on the costs of starting a business. (Even though this information is a little dated, it's easy to see the value of starting your TET Tapping practice!)
So, right about now you're probably asking yourself what you need to do in order to participate in the mentoring program at The EGO Tamer® Academy. We've put together a chart outlining the steps and current pricing for completing your certification as an TET Tapping Certified Practitioner. (Please note that pricing may vary.)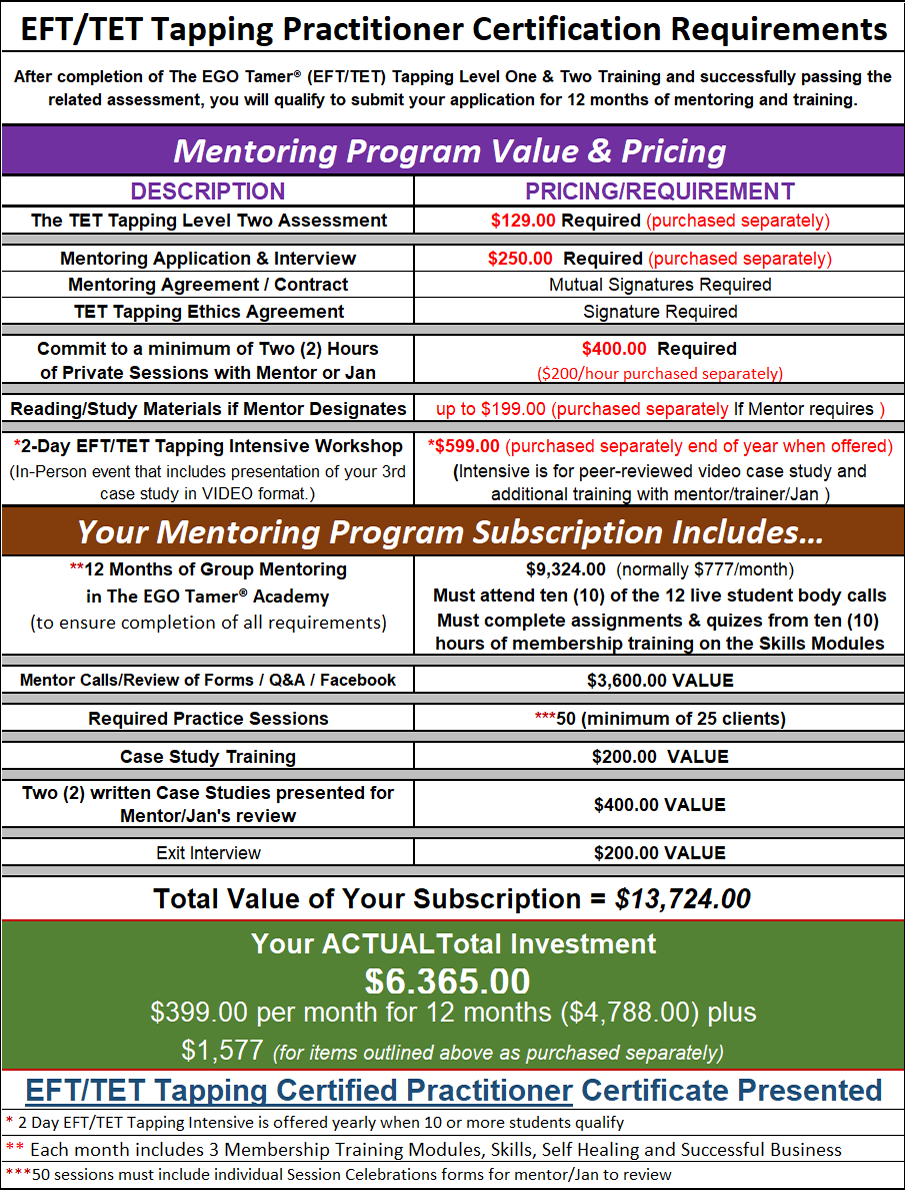 That's a savings of $7,359.00 !!
The EGO Tamer® Academy is building for the future.
Our mission is to certify 30 EFT/TET Tapping practitioners who will become the mentors and trainers for The EGO Tamer® Academy for 2020 and beyond!
NOTE: If your business or employer requires a national or international board certification, please explore other options at EFT International and/or EFT Universe.
Starting or growing your business?
Our Business Mentoring program gives you direct access to Jan's business expertise and her Spirit-centered coaching. This, combined with our step-by-step training program, makes this a unique and truly rewarding experience.
Check out what some of our awesome students have to say…
Ruthi participated in the Business Mastermind group at The EFT Academy. Listen as she describes how Jan supported her in her journey to become an EFT practitioner and how, if she hadn't worked with Jan, she "may have given up."
"Jan Luther has supported me in my journey to become an EFT practitioner."
"She was my first trainer in January, 2012."
Ruthi and Jan reconnected in June, 2013, (in the Business Mastermind group) and Ruthi was able to get Jan's love and support to:
Finish her EFT certification

Create a website and launch it

OPEN for business (she was stuck with that)

Double her number of clients in that year

Quit her JOB that she hated
"It made a huge difference to have Jan's love and support."
"…So helpful to have a mentor to lead and guide you to bring your gifts to world."
"So grateful that I am doing this."
"I'm not sure I would have made it, I may have quit."
"I know Jan can help you!"
RUTHI COHEN-JOYNER
YOUR TAPPING JOURNEY
Lynne Shaner worked with Jan for training and mentoring, participated in Jan's Business Mastermind group and started her own EFT Practice. Listen to what she had to say in this 11 minutes of wonderful information and feedback.
Before participating in Jan's Training and Business Mentoring, Lynne was seeing 2-to-4 clients per week. Six months after her year-long mentoring program with Jan at The EFT Academy, here is some of what she shares in the audio:
She was now seeing 16-20 clients per week!
She easily and joyfully replaced her corporate job and income
She is doing work that she absolutely LOVES
She stated that she had taken The EFT Academy and Business Mentoring training materials and made them her practitioner's playbook and that she was "using it ALL!"
"There is no way I would have been able to accomplish all of this so quickly without your mentoring! Anyone who is considering EFT training and business mentoring with Jan, I say DO IT! It's such a small investment—that has already returned one hundred-fold to me."
LYNNE SHANER, PHD
PRAXIS WELLNESS IN LIFE+WORK
Here's what Charan had to say about working with Jan and defining her purpose in business.
Charan had invested in a high price webinar program — she was asked to define her purpose.

There was a GAP between what she does and how to explain her message and purpose. She was STUCK.

"Jan was phenomenal with being able to help me take all that I needed to (Define) get the message."

"Jan was the bridge – held my hand – I was able to define and express my mission and my message."

At the time of this testimonial, she had just gotten off of the phone with one of the coaches. He was so impressed with how well she had defined and described her work and content that HE wants to work with her! He stated

"There is no doubt that this can create a lot of abundance"

"Jan can help you express YOUR message in a way that can be heard."
CHARAN SURDHAR
GeneOM