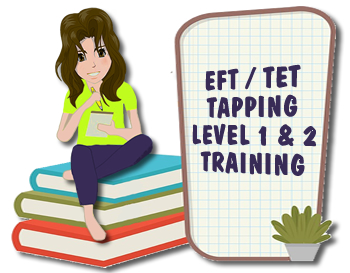 The EGO Tamer® (TET) Tapping Level 1 & 2 Training
Imagine—having the power to heal your life literally at your fingertips.
You can experience measurable physical/ emotional and spiritual shifts in a matter of minutes with EFT/TET Tapping.
In the process you can melt away limiting beliefs, negative behavior patterns and, best of all, you'll tap into higher states of your holy consciousness.
What you'll experience when you train with Jan:
Melting away your Physical pain
You'll Clear Cravings (You can bring your "go to" snack or non-alcoholic beverage.)
Erase multiple bothersome memories
Feel the sweet presence of Holy Spirit as you are rejuvenated day after day.
You'll experience happiness and even joy as together we Tame the EGO (carnal mind) and drift into the light and life energy of The Higher Mind of God.
There will inevitably be unexpected healings as Jan follows Spirit inspiration to address students real time questions and personal needs.
Watch as Dr. Patrick Offman shares his miraculous healing experience during one of our trainings and how TET Tapping takes EFT to a whole new level.
"The pain was gone and hasn't returned!"
No two trainings will ever be the same because of who is in attendance. Every single time, we leave in awe.
What you'll learn when you train with Jan:
The Science and History behind EFT and TET Tapping (and what makes them unique).
Why and how tapping works.
Why we "Try It on Everything!"
All of the basic tapping steps: being specific, psychological reversals, shortcuts and FAQ's, assessing and tracking a client progress, etc. etc.
How the mind blocks healing and growth and how to step-by-step dismantle the wall.
How to get to core issues for permanent relief.
When and how to address big T trauma's and little t traumas.
Where people get stuck and why they DON'T heal.
You'll also learn the 10 core tapping techniques that will empower you to address any challenge that arises.
You'll know (and have the training manual to refer back to) the basic skills for healing past and future disappointment, shame, trauma, losses and pain.
In this 2-day virtual Zoom training class, you'll also…
Practice with Jan's fill-in-the-blank tapping template so that you always know what to say and when to say it.
Learn the fine art of soothing the EGO to avoid denial, anger and resistance.
Understand the art of finding core issues she calls "verdicts", and vetoing them!
Cut chords on roots of physical "dis-ease" based in fear, unforgiveness and often self-loathing.
Use Jan's advanced tapping ideas around emotional geysers.
Learn to recognize and put the brakes on your deadly inner critic (what she calls the "EGO").
Have the blessing of many peer practice sessions so you have hands on, full five senses, experience and kinesthetic knowledge.
You may even get to watch as Jan models the "Keep your secret" method for when your EGO doesn't want to divulge the story (when fear, shame or secret need to be healed).
And so much more!
Some of the best teaching comes from students – live and in the moment – during the training.
Your tuition includes your full PDF version of the training manual. You'll own this textbook for TET Tapping for the rest of your life.
We limit our training classes to a maximum of 10 students. This ensures that you will receive a lot of personal attention on the topics that matter to you.
We also employ a process called "Borrowing Benefits" where everyone is instructed on how to tap "as if" you are a client for each and every topic and tapping segment.
You'll be blessed to see and feel the shifts in your own heart, mind and body as you tap with your fellow students and they tap with you!
Where else can you experience miraculous healings while you learn?
And on top of that…you can attend this training via Zoom in the comfort of your home or office, saving you hundreds of dollars on travel, hotels and dining.
Registration for this class is now closed.
If you'd like to attend my next TET Tapping Training class, please add your name to the waiting list using the form below.
TET Tapping Training Waiting List
Please let me know that you're interested in my TET Tapping Training.
I keep these classes small and intimate, so once we have enough people registered, we'll let you know all the details for the training.